How is it already Sunday again?!? Now that I'm back to working full time, after a 6 year hiatus, I find that the weekends go by so much faster than they used to. I love having a jam packed schedule on the weekends but then I feel like I get no rest before the week starts all over. We are back to having softball games on Wednesdays (it's the only form of exercise my lazy butt gets these days) and some big plans on Friday but I'm still excited to eat some of these meals this week, especially tomorrow's dinner! I'm still not a huge fan of most CrockPot meals so I'm struggling to to find meals that are easy to make after a long day of work and still healthy or at least mostly healthy.
Monday:
Chicken Bacon Ranch Mac & Cheese
(this better be good, I've been thinking about it for 2 weeks now!) This is also the only link I have for you this week, sorry about that!
Tuesday:
French Bread Pizzas
Wednesday:
Crock Pot Tacos that will be ready when we get home from softball
Thursday:
Grilled chicken wings and corn on the cob
Friday:
PENGUINS GAME IN ANAHEIM!!!!!!!! (We'll have to grab dinner on the way to make it on time with the traffic)
Saturday:
Kielbasa, sauerkraut and German fried potatoes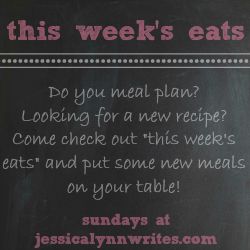 PS, if you haven't seen, I'm participating in a giveaway over at
Just Jacq
and you can enter here!
a Rafflecopter giveaway